The road to success is not straight.   There is a curve called failure, a loop called confusion, speed bumps called friends, red lights called enemies, caution lights called family. You will have flat tires called jobs, but if you have a spare called determination, an engine called perseverance, a driver  called will power, you will make it to a place called success.
WOD:
"RAHOI"
12 Box Jumps, (24/20-inchbox)
6 Thrusters, (95/65-pounds)
6 Bar-facing Burpees
12 minute AMRAP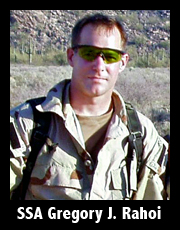 U.S. FBI Supervisory Special Agent Gregory J. Rahoi, 38, of Brookfield, WI, assigned to the Hostage Rescue Team, based in Quantico, VA, was killed on December 6, 2006, during a live-fire tactical training exercise at Fort A.P. Hill, near Bowling Green, VA.

He is survived by his parents, Natalie and Richard, sister Teri, and fiancee Paula Paulk.

WOD Demo with Jenn Jones
http://crossfitinvasion.com/wp-content/uploads/2016/08/CF-Invasion-Logo-Avenger-Style-1030x824.png
0
0
AVW
http://crossfitinvasion.com/wp-content/uploads/2016/08/CF-Invasion-Logo-Avenger-Style-1030x824.png
AVW
2014-02-05 20:00:13
2014-02-05 12:06:00
WOD: 2.6.14