"You are what you eat-so don't be fast, cheap, easy or fake."
Fitness:
"Tabata Yo Mama"
Tabata Intervals of:
Air Squats
Squat Jumps
Lunges
Split Lunge Jumps
Tabata intervals (20 seconds work/10 seconds rest x 8 rounds) for each exercise, with one minute break between exercises.
Score is the total reps from all four stations (32 intervals).
Jumping Lunges Progression Pt.1
Performance

:
"FALKEL"
8 Handstand Push-ups
8 Box Jumps, (30/24-inch box)
1 Rope Climb Ascent (15-feet)
25-minute AMRAP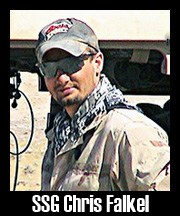 U.S. Army Staff Sergeant Chris Falkel, 22, of Highlands Ranch, CO, assigned to the 1st Battalion, 3rd Special Forces Group, based in Fort Bragg, NC, was killed on August 8, 2005 by enemy small-arms fire in Deh Afghan, Afghanistan.

He is survived by his parents, Jeff and Dianne Falkel.

http://crossfitinvasion.com/wp-content/uploads/2016/08/CF-Invasion-Logo-Avenger-Style-1030x824.png
0
0
AVW
http://crossfitinvasion.com/wp-content/uploads/2016/08/CF-Invasion-Logo-Avenger-Style-1030x824.png
AVW
2014-04-08 19:30:10
2014-04-08 19:30:10
WOD: 4.9.14