Lesson of Time: Karma

When a bird is alive…It eats ants, When the bird is dead…Ants eat the bird! Time & Circumstance can change at any time… Don't devalue or hurt anyone in life. You may be powerful today…But remember, Time is more powerful than you!!! One tree makes a million match sticks… But when the time comes… Only one match is needed to burn a million trees… So be good and do good…
GPP:
"Kelly"
Run 400 meters
30 Box Jumps, (24/20-inches)
30 Wall Ball Shots, (20/14-pounds)
5 rounds for time
Competitor's:
"WHITTEN"
Five rounds of:
22 Kettlebell Swings, (2/1.5-pood)
22 Box jump, (24/20 inch box)
Run 400 meters
22 Burpees
22 Wall ball shots, (20/14-pound ball)
For Time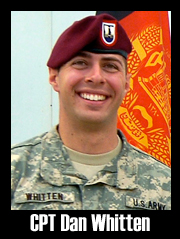 Army Captain Dan Whitten, 28, of Grimes, IA, assigned to the 1st Battalion, 508th Parachute Infantry Regiment, 4th Brigade Combat Team, 82nd Airborne Division, based out of Fort Bragg, NC, died February 2, 2010, when enemy forces in Zabul, Afghanistan attacked his vehicle with an improvised explosive device.

Whitten is survived by his wife, Starr Whitten, his mother, Jill Whitten, his father, Dan Whitten, and his sister, U.S. Army Captain Sarah Whitten.

http://crossfitinvasion.com/wp-content/uploads/2016/08/CF-Invasion-Logo-Avenger-Style-1030x824.png
0
0
AVW
http://crossfitinvasion.com/wp-content/uploads/2016/08/CF-Invasion-Logo-Avenger-Style-1030x824.png
AVW
2013-08-18 16:00:31
2013-08-18 11:54:31
WOD: 8.19.13